reserved for more pics
Still slabbling down the 101
Is he giving me the finger? That MF.
On way down to Malibu on Ca Hwy. 23 south (Decker Canyon Rd). Imagine Red rock but half the width but two ways and much tighter turns if you can believe that. And for 18 miles with a view of the Pacific for most of the way down, talk about a distraction.
Dinner time in Malibu at the famous Neptun Net. Motorcycle friendly!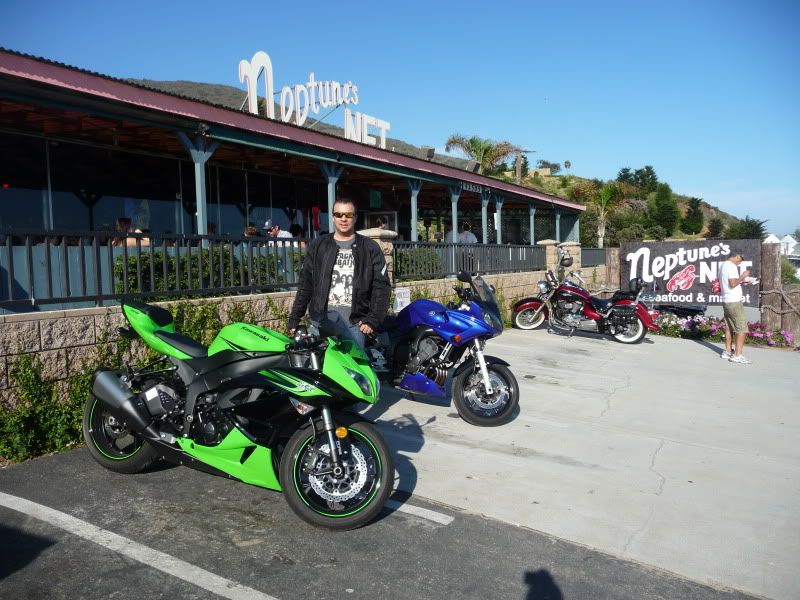 Ever heard of Kite Surfing?
So the weekend was a blast! The ride home from Cali was the worst that I can ever recall about the 2 dozen times I've ridden down there. Taking ACH on the way home today, lots of CHP's. Saw a total of six in a span of 25 miles. Thank god for that School Bus, LOL...
After stopping at Newcombs, here comes the rain. I had plenty of room to take my rain gear with me, but didn't like an idiot. Stopped in Wrightwood at the Grizzly Cafe again, to dry out and have some breakfast. Against my better judgement, I decided to take Lonepine Canyon Road rather than taking the longer route back to the Cajon Junction (I-15- Ca 138).
With all that rain, the road was covered with rocks, sand, gravel and silt. Going over a crest of a hill and a left hand turn going about 40ish, my front end went down like I hit a sheet of ice. I took a head first baseball slide dive onto the pavement. Left knee first, then my left arm and then my slide begins as I watch my GPS and bike go sliding down the road. Did you know that your bike slides much faster and farther than you?
Derek was not too far behind me and saw the whole thing.
I got right back up, and we picked my bike back up and was litterally back down the road in 60 seconds. Frame sliders once again did the job, as it took all the damage. Scratched my mirror and that's about it. Like I said, I landed on my left knee first. I would have probably suffered a broken knee cap at the minimum if I did not have proper riding gear. I tore my left forearm of my jacket too, but the armour on both my jacket and pants did it's job. I would have been carted off in an ambulance if I wasn't wearing full gear. But because I was, I was back riding in less than 60 seconds. Yes, covered in gray silt, but riding.
So the rain got so intense, that Derek fell way back and stopped in Victorville. I pressed on, hoping to rain even harder so that I can get all that silt off of my gear. Yes, it poured. Visibility sucked. Traffic sucked, ended up splitting the last 20 miles in California in the rain because it was all jammed up with wrecks.