This should be a big event. Two days at Cycle Gear on Pecos. Volunteers needed as well!
Here are the Black and white and color versions of the flyer. Please spread the word. If you need a printable version just pm me your e-mail address.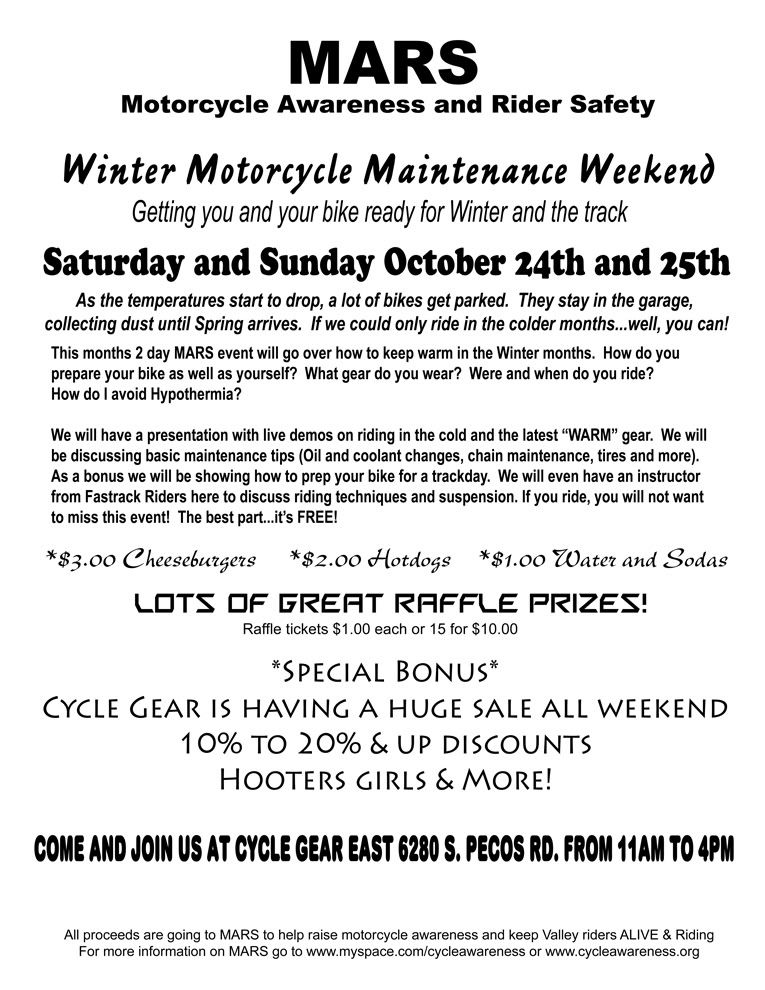 Details on sale:
Wicked Weekend Sale!
October 24-25 get wicked savings during our Wicked Weekend Sale! Pirelli Diablo Tires only $199.99 per set, an additional 20% OFF ALL clearance items (excluding the closeout Shoei helmets), 50% OFF Spy Sunglasses plus deals on the 707 Wrecker and Shoei RF-1000 Helmets. Want something that's not on this list? During this Wicked Weekend sale you also get 10% OFF everything else in the ENTIRE STORE and Special Orders!
Cycle Gear stores maybe have their own special deals and/or events, so make sure to stop by and see what frightful deals we'll have in store!
10% OFF*
The Entire Store and Special Orders
20% OFF**
All Clearance Products
Pirelli Diablo Tire Packages
Reserve a set for as little as $189.99 (Save Up To $127.99)
[click here to order]
50% OFF
All Spy Sunglasses
(Available In-Store Only)
Seven Zero Seven Wrecker Off-Road Helmet
Only $63.99! (Save $96.00)
Shoei RF-1000 Helmets
As Little As $269.99 (Save Up to $137.50)