Hey guys and girls!
Hope all of you are getting ready for this season. Here is an offer that I think might taste good.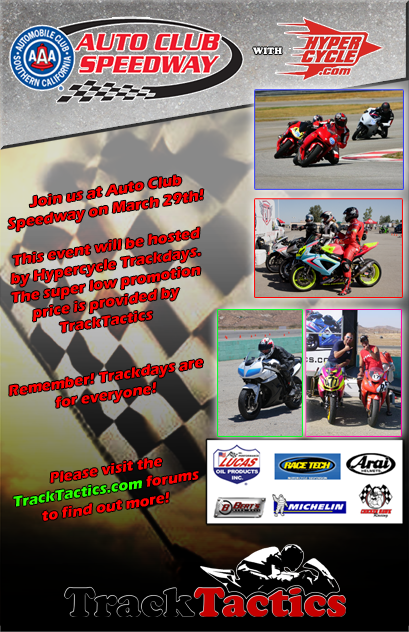 (Feel free to use the above flier image in order to spread the word to your favorite forums and friends!)
03-29-2010 Trackday at California Speedway
Fontana… Auto Club Speedway… California Speedway… The next track we are about to delve into is known by many different names, but there really is only one true thought that comes to mind when you hear any of them.
Pure, mind-blowing, adrenaline inducing FUN
. At least that's what most of us think when any of us consider going to Auto Club Speedway, but then we take a look at the normal price for a trackday on this absolutely amazing track, and we think
"Ouch"
! But have no fear my friends! TrackTactics has gotcha' covered this time! That's right boys and girls, TrackTactics is going to be paying the difference for 30 lucky riders to enjoy Auto Club Speedway, one of the most awe-inspiring racetracks on the west coast, for only $165.00 for only
30
riders! That's right, go ahead and read it again, we said it! Normal price for this event held by Hypercycle Trackdays is $225.00. So whip out your cell phones and set a
reminder alarm
before you forget, because we expect this event to sell out faster than any other before it!
The event organizer for this trackday will be Hypercycle Trackdays at HYPERCYCLE
Keep in mind, THIS PROMOTION AND THE PRICE PROVIDED BY TRACKTACTICS HAS
ABSOLUTELY NOTHING
TO DO WITH HYPERCYCLE TRACKDAYS,
PLEASE
DO NOT CALL THEM ASKING ABOUT THIS PROMOTION OR THE PRICE WE PROVIDE. IF YOU HAVE QUESTIONS ABOUT THE PROMOTION YOU MAY ASK TRACKTACTICS.
**
TrackTactics Rider ID Card
**
**IMPORTANT NOTICE**
The free TrackTactics Rider ID Card and membership will be
REQUIRED
for any rider to participate at this event! A TrackTactics membership ID and forum account will be required for you to sign up for the event! It is extremely important that you send in your membership paperwork as soon as possible so as to ensure that you receive your Rider ID Card on time for this event. The turn around time for the Rider ID Card is fast once your paperwork has been sent in and received, it will usually take us only a few business days to process it and send it back to you! Keep in mind, spots for this event will be restricted to
one
per registered TrackTactics member, so no more buying up spots for all your friends. The TrackTactics Rider ID Card has absolutely nothing to do with Hypercycle Trackdays or their event, please direct all questions regarding the ID Card to us at TrackTactics either by e-mail (info@tracktactics.com) or here on the forum in the discussion thread.
Membership and Rider ID Card information can be found in the
Membership
section of the main website.
TrackTactics.com
TrackTactics.com is completely dedicated to you, the riders that make this sport what it is, we want to get people on the track and riding safe so that we can save lives and keep this sport fun for everybody! That's why we are providing you with a substantially reduced price, so that we can hopefully coerce even the most frugal of riders into riding, and learning, at the racetrack! The original prices were not inflated prior to this promotion, the prices you see on their website are their normal prices for this track event. The price we provide you with is truly a substantial reduced trackday price with absolutely no strings attached!

This event will be organized and operated by Hypercycle trackdays.
Please remember!! This promotion and its price have absolutely nothing to do with the track organizer Hypercycle Trackdays. Please do not call or send them any e-mails concerning this specific promotion, as they will not be able to help you with anything regarding this promotion. If you have any questions about it, they need to be asked here at Tracktactics.com.
TrackTactics Promotion Information
The promotion code for this price will be: Will be released on Feb 28th, Sunday at 9:00PM SHARP!!
Promotion price: $165.00
Available for Only 30 Riders!
Event date: March 29th, 2010
*Friendly Tip* There will be another promotion price for this event immediately after the first promotion sells out, however, the original price will no longer apply.
Special Services
Track Profile
Track Facts - Auto Club Speedway
Applying The Promotion Code
1) Go to the track organizers website: HYPERCYCLE

2) Select 03-29-2010 Trackday at California Speedway and click "More Info"

3) Fill in the required information (ie, Name, Phone #), select your riding group (ie, Street, Intermediate or Advanced) then "Add To Cart"

4) Now that it is added to your cart, select "Cart/Checkout" at the top right of the webpage.

5) Review your information, then enter the coupon code at the bottom of the page and select "Apply"

6) The 'Total' should now state $165.00 instead of $225.00, the promotion price has been added and you can continue with check-out!

Congratulations, you just signed up for your track day at an incredible price! Enjoy!

Remember friends, TRACK DAYS ARE FOR EVERYONE and we are just SAVING LIVES BY TAKING THE STREET TO THE TRACK.